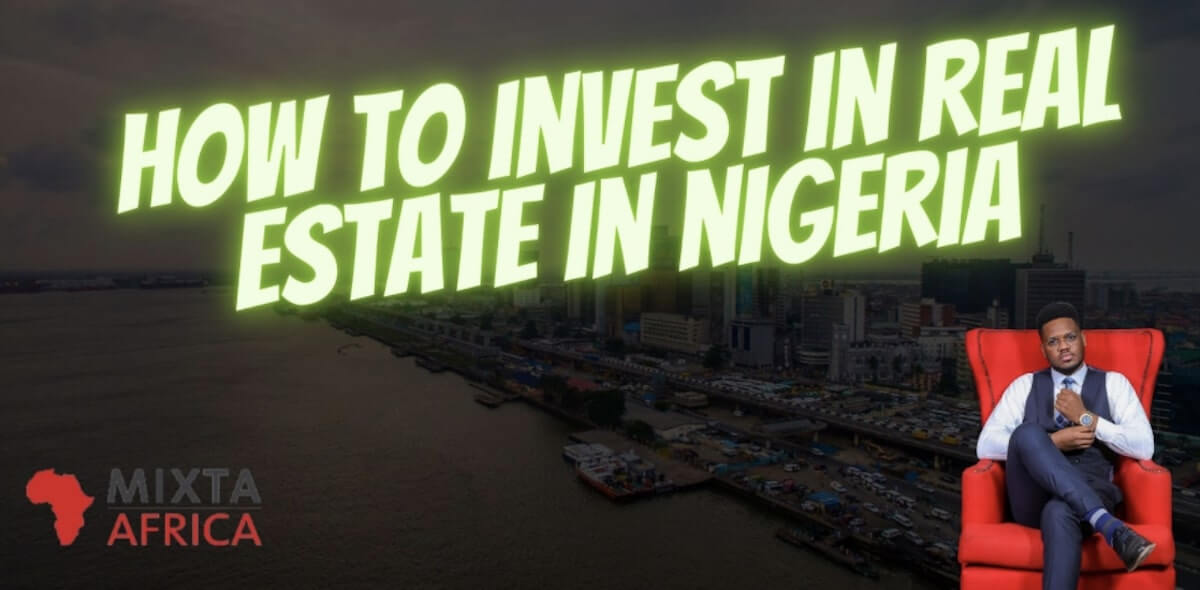 How To Invest in Real Estate in Nigeria and The Major Things You Must Consider Before Starting
August 19, 2021
Real estate investing is one of the major ways that you can create steady income streams. While investing in real estate in Nigeria offers countless opportunities to gain a financial cushion and build wealth, there are many loopholes that can limit what you can make. To avoid committing costly mistakes, it is crucial to do thorough research and learn about the legal aspects of real estate before you delve in. For more on this, see this post on the deed of assignment in Nigeria.
In this article, we'll be taking you through the different ways on how to invest in real estate in Nigeria. We'll also be showing you their pros and cons, and, as a bonus, we included an exhaustive list of the basic things you must consider before venturing into the real estate investment business in Nigeria.
How Does Real Estate Investment Work?
A real estate investment is a financial strategy that involves the management, ownership, purchase, rental, and/or sale of a property for profit. Just like what you would see with a real estate company in Nigeria. Though there are several ways to invest in real estate, they all rely on similar economic factors to earn profit. The first factor is that the property must increase in value. Furthermore, the costs involved in owning and maintaining the property must not exceed its increased value.
There are different types of investment property, and good investors choose their investment strategy based upon their need (short- or long-term) for profit. Fast turn investing refers to the process of buying a property and selling it quickly (often referred to as "flipping"). Investing for the long term means buying a property for rent or lease over a long time period, gaining both the rent and the growing value of the property. You can read about how to access federal mortgage loans in Nigeria
How To Invest in Real Estate in Nigeria
The Real Estate sector is currently booming in Nigeria and people are making millions in it, irrespective of the economic downturn, it can be seen as a real money-spinner. Below are the main methods of investing in real estate.
1. The Gift of Rental Properties
Investing in rental properties is an age-old practice as is land ownership. You purchase a property and then rent it out to tenants. As the landlord, you are responsible for paying the costs of maintaining the property.
Rental properties can be a lucrative business for those with do-it-yourself (DIY) and renovation skills, and who are patient enough to manage tenants. Although this strategy does not require significant capital, it does require substantial funds to cover the maintenance costs and to cover vacant months.
Pros
Provides regular income and properties can increase in value
Leverages capital to maximize returns
Associated expenses are tax-deductible
Cons
Managing tenants can be tedious
Tenants could potentially cause damage to property. See tenancy agreement in Nigeria
Potential vacancies reduce income
When you purchase rental properties, you take on many responsibilities as a landlord. It is essential that you are actively involved in running and maintaining your property. In the event that things become too overwhelming, you can hire a professional manager, which isn't free.
2. Real Estate Investment Trusts (REITs)
Many Nigerians are not familiar with Real Estate Investment Trusts (REITs). Real estate investment trusts, or REITs, are collective investment schemes regulated by the Securities and Exchange Commission (SEC). These schemes pool investment capital from investors to acquire income-producing real estate or mortgage loans, or a combination of both.
Real estate investment groups (REIGs) are ideal for people who want to own rental properties without the hassle of managing them. An investment in REIGs requires a capital cushion and access to financing.
In a REIT, a single investor can own one or several units of self-contained living space, and the investment group manages all of the units on the investor's behalf, such as maintaining them, advertising vacancies, and interviewing potential tenants. tenants. In exchange for conducting these management tasks, the company takes a percentage of the monthly rent.
Pros
Renting is more hands-off than owning rentals
The property provides income and appreciation
Real estate investment offers an alternative to equities and fixed-income securities.
REITs also offer liquidity, as they provide relatively liquid assets for sale (compared to direct real estate investments) that can be sold quite quickly to raise funds or to take advantage of different investment opportunities.
Cons
Vacancy risks
Similar fees as mutual funds
Susceptible to unscrupulous managers
Like dividend-paying stocks, REITs are a solid investment for stock market investors who want regular income. Additionally, REITs allow investors to invest in non-residential properties such as malls and office buildings and are highly liquid. In other words, you won't require a realtor to help you cash out your investment.
3. Land/House Flipping
Real estate investment is the process of purchasing and reselling for a profit quickly. It is one of the smartest investments one can make, and it requires little to no effort on the part of the owner. In terms of money as well as knowledge of land ownership and the buying and selling process, you are good to go.
However, you would need a substantial amount of money if you want to make hundreds of millions, but you can start small by buying just one plot and grow to buy tens of plots and acres and keep selling them all year round.
The process of flipping houses requires extensive real estate experience, marketing, and renovation. For house flipping to work, one must have the capital and be able to oversee repairs when needed.
Pros
Ties up capital for a shorter time period
Can offer quick returns
Cons
Requires a deeper market knowledge
Hot markets cooling unexpectedly
Flippers who are unable to unload a property quickly may find themselves in trouble because they rarely keep enough uncommitted cash to pay the mortgage on a property over the long term. Snowballing losses can result from this.
4. Property Development
Property development is a very capital-intensive industry. In this case, properties are acquired in nice spots, redeveloped into luxury apartments, commercial structures, etc., and then sold at a really high-profit margin.
For example, if you spend N200 million developing a house in an amazing location, expect to sell it for at least N400 million. A good location is critical when considering property development.
Investing in real estate is only the tip of the iceberg. There are countless variations of real estate investments within these examples. As with any investment, there is much potential in the real estate sector, however, you should make careful decisions, do your homework, research, and weigh out the costs and benefits before taking action.
Things To Consider Before Investing in Real Estate in Nigeria
In 2011, only 37% of Nigerians owned a home. Information is the key to bridging this gap for potential investors and the general public. In addition, by simplifying the process, the barriers to investing in the sector can be broken down.
If you're looking to invest in real estate, you should take these 8 steps into consideration.
1. Do Your Research
If you are interested in the property market, there are various platforms to find the information you need. Some of these platforms include the mass media, online and around you, and speaking with locals. You can create Google alerts for search terms on Google and other relevant Nigerian property sites. You will always be up to date this way.
2. Decide On The Specific Property Market
Decide on a sector that will benefit you the most based on your goals. It could be an office, industrial property, retail center, or residential unit. For instance, if you're seeking a faster return, investing in residential real estate may not be best.
3. Identify Booming Real Estate Markets
Though they may not be booming now, infrastructure development and ease of access to central business districts may change that soon. When a highway is built, it eases traffic, and the working class tends to move in that direction, making it a good reason to construct high-rises to rent out to them.
4. Decide Where and How You Will Raise Funds
Depending on where you are in life, the source of financing may vary. It could be from friends, family, or financial institutions. Alternatively, you could have the money yourself. When you approach the bank or institution, make sure you know what you're doing. Your plan has to be viable enough to make them give you the money.
5. Get The Details Right
Be careful not to enter into business deals with unreliable people. Consult an expert, a lawyer, and make sure everything is sorted out correctly, from the government requirements to the owner's concerns.
6. Know The Law
Owning a property is one of the rights of a Nigerian. However, the 1978 Land Use Act gives state governments control over land within their borders. They then make it available to you after an elaborate and bureaucratic process. In order to use the land, i.e. sell it or develop it, you will receive a certificate of occupancy.
7. Look To The Future
Although there may not be basic infrastructure where your property of interest is currently located, if it is in the path of the ever-expanding urban areas, you cannot go wrong. Several years down the road, you may sell it for millions over and above what you purchased it for. Make sure you don't lose sight of the big picture.
8. Leverage Online Marketing
As a real estate investor in the Nigerian market, you cannot afford to ignore the Internet. Whether you have a website or maintain a social media presence, the Web is an affordable way to get traffic to your venture once it hits the ground running. Online marketing could help you attract buyers or sellers.
In Conclusion
When it comes to investing in real estate in Nigeria, the best decisions are the ones that serve you, the investor. Consider your time, capital, and whether you want to be the one to deal with household issues when they arise. You can also read our articles on excision of land, certificate of occupancy and land tenure system in Nigeria